Enjoy our exclusive spotlight interview with

...
the Etsy shop owner of ROBOTS ARE AWESOME.
Tell us about your

shop name

...
►
The title kinda sums it up, robots are awesome. :)
Tell us about your logo...
►
Since opening my shop I've changed it a bit too often, but finally created a banner with just the right amount of text and my most favorite robot peeking in. So Golden Garrick the robot has become my logo and mascot.
Tell us about your shop...
►
Robot Sculptures: Decorative and Functional Geekery. Each robot is handmade. Polymer clay is shaped into robotic goodness, reclaimed bearing balls added for eyes and wire woven into springs that make the neck, arms & legs (coiling gizmo rocks). After baking, multiple coats of varnish are brushed on for protection and shiny delight.
Tell us about the items in your shop...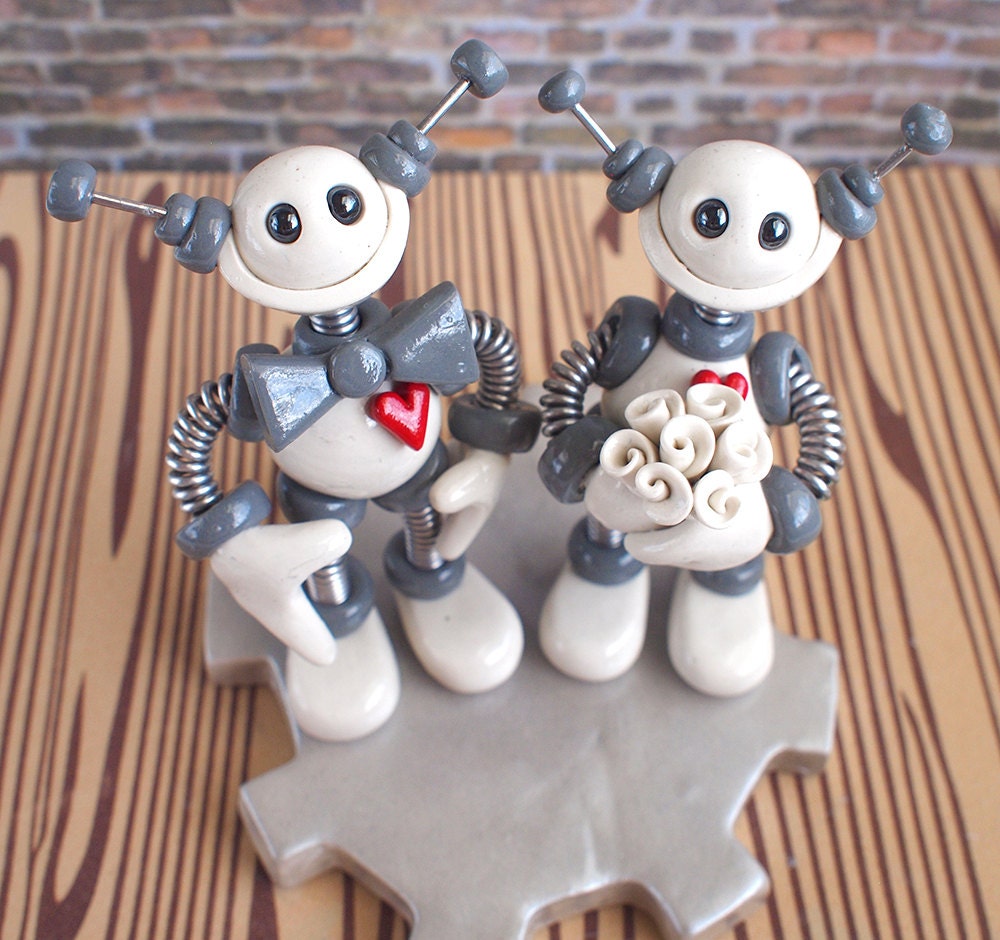 ►
Types of robots including, but not limited to robot wedding cake toppers, robot business card holders, robot photo holders, robot birthday cake toppers, robot cats, robot dogs, robot Christmas robots...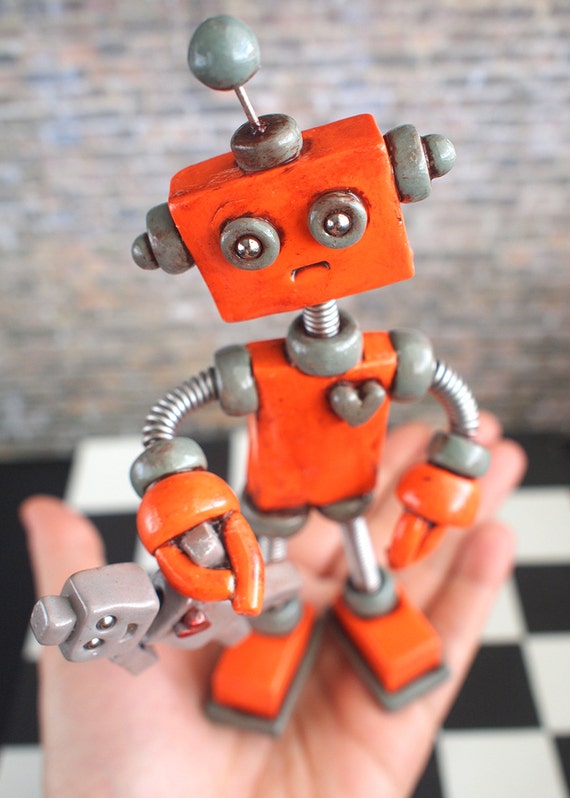 Where do you get your inspiration?
►
Geekery, scif-fi books, movies, colors palettes, all the interwebs, the desire to create both cute and rustic.
Where can we find yo

ur work?
►
etsy
RobotsAreAwesome.etsy.com
►
blog
robotsareawesomeshop.blogspot.com
►
facebook
fb.com/robotsareawesome
►
twitter
twitter.com/robotsawesome
twitter.com/@herartsheloves
►
pinterest
pinterest.com/herartsheloves/
►
instagram
instagram.com/herartsheloves/
You cannot live withou

t...
►
Polymer Clay and the interwebs
You

're not a fan of...
►
Mass produced junk from China pretending to be handmade.
I strive to use recycled materials for shipping and the majority of the art supplies I use: polymer clay, varnish, wire are all made in the United States.
We wouldn't guess that...
►
I'm a crazy cat lady, but I keep that exclusively on Instagram, on Caturdays.
One day, you hope to...
►
Have a robot 'adopted' everyday.
Do you have advice for other Etsy shop owners?
►
It takes time, really it does. Seriously it takes time. Ask questions in the forums.
Seriously it takes time.
Other Etsy shops you love...
►
www.etsy.com/shop/joojoo
►
www.etsy.com/shop/magicbeanbuyer
►
www.etsy.com/shop/monsterkookies
►
www.etsy.com/shop/CatherinetteRings
►
www.etsy.com/shop/DollProject
►
www.etsy.com/shop/sleepyrobot13
Please join us in thanking ROBOTS ARE AWESOME for taking the time to partici

pate in

our spotlight interview

!
Visit her shop or other sites to stay connected to this very talented artist

!
Do you or someone you know have an Etsy shop worthy of shining the spotlight on?
Comment below with the shop link to be considered for a future interview!